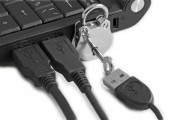 USB Block presents a solution to consumers which would give hackers a run for their money!
Beaverton, OR, March 10, 2016 (Newswire.com) - ​​T​heft in today's world is completely different from what it used to be. As the current technology is progressing; more and more people are relying on it to store their data including their identity, their banking information, as well as their private files. Not only people, but businesses and even governments now rely on computers to store important information which include personal details of their customers or tax payers, etc.
According to research, the most common way hackers steal someone's data is by somehow accessing their computers and copying the data on a USB or a CD/DVD drive. There have been numerous incidents which prove that this is hackers' favorite way of breaching data and stealing it. These include UC Berkeley's data breach, which happened less than two weeks ago and compromised data of more than 80,000 individuals.
All businesses which hold personal and financial data on individuals have exactly the same responsibility to protect data as any governmental body and keep that information safe.

Stewart Hosie, SNP deputy leader and Economy spokesman.
A popular example is last year's data theft at BARCLAYS bank, which cost the company half a million dollars which it payed to affected customers, not to mention the bad publicity the drop in trust the bank has faced since then. According to news, personal data of more than 2,000 customers was found on a USB stick at a flat on the south coast of England. These examples prove how vital it is for users and organizations to prevent their data from being copied on an external drive without their permission.
To prevent private data and important information from leaking and getting into the hands of hackers, guys at NewSoftwares.net have developed a software which they call USB Block. This software blocks data from being copied into any external drive including a USB drive or CD/DVD drive without the original user's permission. However, they have the option to allow access to any particular USB device they want, and they would not need to enter the password each time they connect the device to the system. The unique software also allows users to put it on stealth mode to save it from prying eyes.
With USB Block installed, users would need to enter the correct password each time they want to copy/burn any content on an external drive. This ingenious invention may prove to be the ultimate solution to data leakage the world has been seeking for so long.
About NewSoftwares.net:
NewSoftwares is a security software company. NewSoftwares develops products for folder Security and USB Security, mobile security as well as a list of other PC and cell phone applications. NewSoftwares is focused on providing security software to individual users. It's popular software are;
Folder Lock lets you password-protect files, folders and drives; encrypt your important files on-the-fly; backup them in real-time; protect portable drives; shred files & drives and clean history. It's also available in lite version for PC. Folder Lock is the most downloaded file-security application with more than 25 million users. It works on 32-bit and 64-bit versions of Windows 8, 7, Vista, XP. It is also available in 'lite', 'basic' and 'advanced' versions for iOS, Android and Windows mobile platforms.
USB Secure lets you password protect your USB drives, SSD drives, external drives and memory cards. Protection is PC independent and does not require installation or administrative rights on the other end. You can unprotect your data by entering the password again. Works in all flavors of Windows.
Other Apps
Other Applications for PC platform include Folder Protect, Copy Protect, USB Block, Macro Keys and History Clean.
For Mobile platform, applications include Secure Photo Gallery, File & Password Vault, Hide SMS & Call Recorder, Notes lock, Photo Lock Advanced, Speaking SMS & Call Announcer, App Lock and Gallery Vault, iEncrypt Password Manager, Social Media Vault and Caller Name Talker Free.
Share: