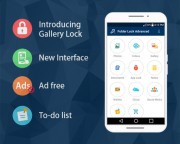 The newest version of Folder Lock Advanced is the most comprehensive data privacy and file manager app available on Android. It contains loads of features and is completely AD free. It has become an instant fan favorite.
Beaverton, OR, December 14, 2015 (Newswire.com) - ​​​​​​​​​​The smartphone revolution has changed the dynamics of how we communicate. There's little doubt that our lives - more or less - revolve around our smartphones. Whether its checking how much money we have in our bank accounts, or conducting a video chat with loved ones thousands of miles away, it's all possible thanks to smartphone technology. Consequently, among all smartphone operating platforms, Android has been the most successful in terms of attracting users, simply because Android running handsets offer a wider selection of budget friendly phones. However, this has also raised concerns among security experts, as the Android platform is considered one of the most insecure application market. To make matters worse, with a growing user market, hackers are reigning in on the opportunity to steal user data from their smartphones.
Many Android users think that installing an antivirus app will protect them from all sorts of hackers. Although, there is some truth to this fact, it's not the whole story. There's a greater chance that users' phone's data could be accessed physically rather than remotely, be it a co-worker, a friend, a stranger, or worse, thieves or burglars who steal smartphones. Chances are a user's private information such as documents, videos, images, passwords and social media account could easily be compromised. After all, most people have their entire life's information saved on their devices.
Folder Lock Advanced is the most dynamic, feature-packed data security app on the Play Store.

Ahmed Qureshi, Director, Marketing & Sales
Accordingly, there are many apps on the Play Store that claim to safeguard users' private data on Android devices. Sadly, many don't provide encryption feature and some don't even have all the security features required to completely safeguard user information.
Consequently, the developers of world's first consumer targeted encryption software, Folder Lock, have developed a similar app for Android phone called Folder Lock Advanced. Folder Lock Advanced is a first for Android that offers privacy and security features such as the options to lock-down apps, images, videos, create secure to-do-lists and password protect social media accounts.
For December 2015, Folder Lock Advanced has been thoroughly refined. New features on the app include the ability to lock down apps and the facility to password-protect most social media apps using a single pass-lock. Most importantly, Folder Lock offers encrypted protection for images, videos, documents and notes, making it impossible for hackers to steal users' personal information, even if users have saved such information on their SD card.
Get Folder Lock Advanced for Android on Google Play.
https://play.google.com/store/apps/details?id=net.newsoftwares.folderlockadvanced
Share: