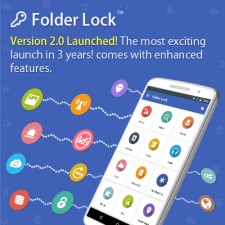 Smartphones can contain a treasure trove of personal information which hackers consider more valuable than money. If such information is hacked, the victim will be left with little or no option. Therefore, apps like Folder Lock prevent data hacking from lost or stolen phones. Folder Lock ensures that personal information is never compromised, giving total security for sensitive data on Android phones.
Beaverton, Oregon , August 8, 2016 (Newswire.com) - ​​With popularity of smart-phones at an all-time high, people are increasingly saving their information on smart-phone devices. Today, everything can be done on phones. If a person doesn't have the time to step out and buy groceries, there's an option to go on-line using smart-phones, tap a few buttons and groceries will be delivered to the house. Likewise, if there is a need to get from point A to B, without getting lost, a navigation applications can accomplish that. Similarly, with smart-phones it's possible to conduct conversations face to face with people across the globe through the various video chatting applications. The point is, thanks to smart-phones, there is more productivity than there was before smart phones became mainstream. On the other hand, there have been many concerns regarding the excessive reliance on smart phones.
To make matters worse, smart phones can contain a plethora of personal information. In fact, such devices can contain so much data that the user themselves often underestimate the amount of personal information saved on smart phones. Consequently, if the smart-phone is lost or stolen, it can easily be hacked and the personal information could be stolen. Therefore, one of the most important thing a person can do is to safeguard information on smart-phones through a Folder Locking application. Analyzing the problem in greater detail, let's start with personal images and videos, there are some images and videos that can be confidently shared with others, while there are some that should be kept private. Furthermore, documents such as tax returns, copies of personal identity documents, personal records, work related data and other receptive documents can be accessed on smart-phones by anyone who knows the password.
Folder Lock version 2.0 update comes with major feature enhancements and bug fixes. Resulting in better user-experience and functionality.

Ian Murphy, Digital Marketing Manager
Therefore, there needs to be a solution which solves the issue of personal data protection. Thankfully, Folder Lock for Android version 2.0 is the only application that can safeguard all types sensitive data on smart-phones. Users have the option to lock their photos and videos, password-protect their documents, create secured personalized notes, hide contact details for specific groups of people, create secure virtual cards that contain personal financial details such as credit cards, bank cards and ID cards and finally, all locked and hidden data can be uploaded to a cloud account that ensures that user data is never lost. Additional features such as panic switch, hack attempt monitoring and fake login account guarantees that users never have to worry about anyone discovering secret information on personal Android devices. The latest version of Folder Lock, version 2.0 has been launched which comes with feature enhancements three years in the making. The developers claim that it is the most ambitious launch in three years.
Folder Lock has been the most trusted data security application since the last decade, it has won numerous awards for its functionality, user-experience and its dynamic ability to safeguard data of users around the world.
Source: Newsoftwares.net
Share: