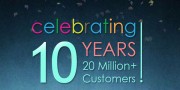 10 Glorious years of providing military grade encryption software to 20+ million users worldwide, NewSoftwares.net is celebrating customer appreciation day!
Beaverton, OR, September 24, 2015 (Newswire.com) - ​​Use LOYAL2k15 at our special customer appreciation day page to earn your coupon! NewSoftwares.net thanks 20+ million users worldwide for supporting them over 10 years.
The IT revolution has without doubt improved quality of life and everyday productivity. Today, people have become dependent on computers and the internet. Nearly every household owns a computer in the developed world, and the smart phone growth is spreading even faster. With high-speed internet becoming more accessible to more people, the flow of information is constantly expanding – which has both positive and negative consequences. One of the greatest concerns users face is theft of their personal information. In fact, every now and then major incidents involving server hacking tends to dominate the headlines– such as the most recent one involving the Ashley Madison website hack. However, individual users and small businesses are equally at risk of having their personal information stolen by hackers. In fact, hackers have found it easier to target individuals compared to large companies. Thus, those who are most concerned about the security of their personal information have adopted the use of encryption software.
After serving over 25 million users in just 10 years we feel honored & humbled.

Adam, Customer Relations
In 2004, one of the first organizations to develop desktop encryption software for individual users and small businesses was NewSoftwares. Their flagship software Folder Lock® served a vital purpose in which it enabled users to encrypt files, folders, photos and videos using AES-256 bit military grade encryption. Today, with Folder Lock 7, users also have the option to automatically backup and sync their encrypted data to a dedicated cloud account. In addition, Folder Lock 7 encrypts data on virtually any type of external drive/USB drives – including the ability to burn encrypted data on CD/DVDs. Other features include file/folder locking-hiding, drive-data shredding, history cleaning and encrypted wallets.
This week, the company is celebrating over 10 years of success with 20 million customers worldwide. During their customer appreciate week, the company has launched an exclusive campaign to promote their products. Security conscious users looking into purchasing any Newsoftwares.net products can utilize the coupon code 'LOYAL2k15' and get 25% knocked off from their purchase price. The company claims this is the largest customer appreciation campaign in their history, which will be limited to a specific number of coupon codes.
Share: