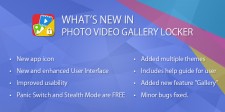 Beaverton,Oregon, June 16, 2016 (Newswire.com) - ​​​Our smartphones are considered a window to our personal lives. These handy devices primarily functions as tool for communication, be it through text messaging or voice conversation. What's more, smartphones today are able to connect to the internet, allowing the user to stay connected more or less 24 hours a day, 7 days a week. With most smartphones, users are able to watch HD movies and videos through a device that fits in the palm of their hand. In every sense, one can say that the smartphone is nothing short of a revolution.
Download Photo Video Locker FREE on Google Play
https://play.google.com/store/apps/details?id=net.newsoftwares.photandvideolocker
However, one would say that these devices are unsafe to use, especially in the case of user privacy. Well, it's true, smartphones contain too much information about us and are generally considered a security threat. If you think about it, we have saved all our private conversations on these devices along with our most sensitive images and videos. We often cringe when others go through our images and videos. However, today the smartphone is capable of doing virtually everything, all that is required in an app for the application in question.
Consequently, the concept of an app that can lock and hide your hush-hush images and videos has become immensely popular. However, this unprecedented popularity has triggered competition that involves developing apps that serves this purpose. Sadly, there are countless apps that claim to safeguard your personal media, yet fail to prevent hackers from accessing sensitive images and videos.
Being experts in the realm of data security for over a decade, Newsoftwares was the very first organization that developed military grade solutions for the average person. Likewise, we are excited to announce that we have just released photo & video locker. You may be wondering what so special about this app? Well, Photo & Video locker is our most tested and refined Android app ever. In addition to that, it was developed according to user feedback and preferences. It's simple and easy to use interface makes safeguarding images and videos convenient – it's so easy, even your grandma could hide her secret images and videos!
Photo & video locker provides strong security that utilizes encryption to safeguard your personal media. Users are able to setup their own theme, allowing them to create a personalized interface. The app also features some unique features that user won't find on other similar app. For example, Photo & Video locker has a proprietary feature called panic switch, it basically allows the user to avert snoopers at by shaking, flicking or placing the smartphone facedown.
https://play.google.com/store/apps/details?id=net.newsoftwares.photandvideolocker
​About NewSoftwares.net
Newsoftwares.net has been a leader in the information security business for over 15+ years. The company is known for developing the world's most trusted and most dynamic encryption software -- Folder Lock. Recently, NewSoftwares.net has launched its development services business unit, in which the company will offer comprehensive and affordable Andoird & iOS app development services that cater to various business needs.
​To get more info and other queries please send an email to ahmed@newsoftwares.net
Source: http://www.newsoftwares.net/
Share: