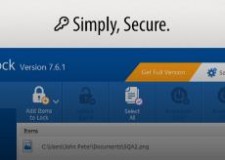 Folder Lock is an encryption and cloud backup software, designed to provide total data security and data backup solution for users.
Beaverton, OR, July 15, 2016 (Newswire.com) - The latest version of Folder Lock version 7.6.1 comes with a user-friendly interface that is aesthetically pleasing and reduces learning curve amongst new users.
In the present time, nearly everything involves the use of computers and smart phones. This dependence on technology has allowed modern humans to become more productive and better informed. The proliferation of information technology has improved learning, workplace productivity and quality of life for many around the globe. However, there are always two sides to a coin, if there's good in something, there's a good chance it has a bad side also. With increasing dependence on PCs and smart phones, there's the threat of identity theft and digital espionage. In a nutshell, there are pros and cons when it comes to using technology such as smart phones and PCs.
Folder Lock is a military-grade data encryption software with a dedicated secured cloud backup service. Its purpose is to prevent leak of sensitive data and keep encrypted files & folders backed-up and accessible for users.

Ian Murphy, Digital Marketing Associate
Currently, there are two big issues concerning confidential and important digital information. The first issue is concerned with security of files and folders, currently the only fool-proof means of keeping information safe on a stationary PC is to encrypt the files or folders that are considered sensitive. Presently, only AES-256 military grade encryption has been proven effective in safeguarding sensitive data. The second issue is concerned with data backup and access; can sensitive documents be safely uploaded to a public cloud backup service? In short, the answer is a no. So what's needed is a dedicated cloud backup service that allows users to upload encrypted information on the fly.
Accordingly, Folder Lock 7 is the only desktop encryption software that resolves both these issues. First, it lets users encrypt their information in password-protected encrypted lockers, ensuring that the information can never leak. Second, it has a dedicated, secured cloud backup service that automatically syncs and uploads encrypted lockers. These two features ensure absolute security and accessibility of sensitive files and folders.
Product : www.newsoftwares.net/folderlock/
Source: Newsoftwares.net
Share: